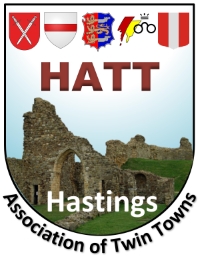 Welcome to the website of the Hastings Association of Twin Towns.
What's twinning all about?
Twinning developed shortly after World War II as a way of bringing ordinary people together and as a serious contribution to international understanding and world peace. It's true that civic authorities sign official charters, but 99% of twinning involves citizens from all walks of life, of all ages and from countries as different as Ireland and Bulgaria or Norway and Italy getting to know each other, learning about each other's culture and staying in each other's homes. Often, twinners travel in groups and meet people with similar hobbies and interests - on a school exchange, say, on a football tournament, around a chess-board or at a combined musical event.
Over the years, it has meant that people can travel relatively cheaply - twinners usually benefit from group rates and stay in other twinners' homes wherever possible - which has opened up travel to thousands of young people, especially.
Who is Hastings' twinned' with?
We're twinned with 4 towns on the near Continent - Béthune (France), Oudenaarde (Belgium), Dordrecht (The Netherlands) and Schwerte (Germany). In addition, we're now twinned with Hastings in Sierra Leone, West Africa, though that's a different sort of link.
For information on each of the twin towns, a short history of our link with that town, a diary of recent and forthcoming events involving our friends there, and contact details, click on the link that interests you: